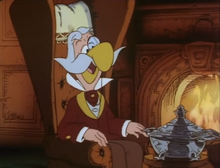 Sibellious Smogg is a world famous explorer.
History
Smogg helps Dr. Von Goosewing when the later challenges Duckula to a race around the world. The pair end up stranded at the North Pole, after Nanny untied the rope to Goosewing's balloon, which was attached to Castle Duckula.[1]
Trivia
Smogg is - presumably - based on Phileas Fogg, the protagonist in the 1873 Jules Verne novel Around the World in Eighty Days.
Sources