Welcome to the Count Duckula Wiki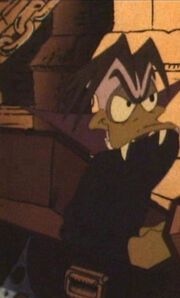 Duckula (full title: Count Duckula the 17th, as stated in the episode The Count and the Pauper) is a short green duck with black parted hair and the traditional vampire evening wear, complete with cape. He has no fangs, although his more old-fashioned relatives do (two of which are an uncle named Vlad, and an auntie named Lucrecia). His favourite food, as a vegetarian, is broccoli sandwiches. He occasionally has been seen wearing pyjamas with a Danger Mouse logo, a reference to the character's origin.
Count Duckula himself is a deliberate send-up of many traditional vampire traits. As his name suggests, he is an anthropomorphic duck. Besides his vegetarianism and aspirations of fame, he is very squeamish and often cowardly. The Duckula family motto is Per ardua ad sanguina, which means "work hard for blood".
Loading RSS data...
Community content is available under
CC-BY-SA
unless otherwise noted.